The Jewish graveyard on "Klosterkamp" (location • more photographs) dates back to the mid 1700's, over 100 years prior to the construction of the neighbouring railway line. The last burial took place in 1939. As a result of the desecration by the Nazi's, it is not possible to determine the exact number of graves present. According to the Heidelberger Zentralarchiv zur Erforschung der Geschichte der Juden in Deutschland there are 74 gravestones. This information was provided following research undertaken by Klaus-Peter Schulz in 1968-69. In 1997 Klaus Beer documented 71 individual gravestones as well as 2 family tomb stones for 76 plots. In 2000, there were 2 missing gravestones (source: Beer). Other sources refer to 75 graves dating from between 1854 and 1935 (source: Obenaus).

History
In 1756 or 1757, Levi Hertz, the first Jew documented in official Scharmbeck records, purchased a 150 m² plot of land, an open field site, on the main road between Lintel and Penningbüttel, to be used as a Jewish cemetery. This was long before the local Jewish community was officially established in 1768. Adjacent land was purchased in 1847 and today the cemetery extends over an area of 1973 m². (source: Obenaus) There are no longer any visible graves on the original slope (The area shaded dark green on the map).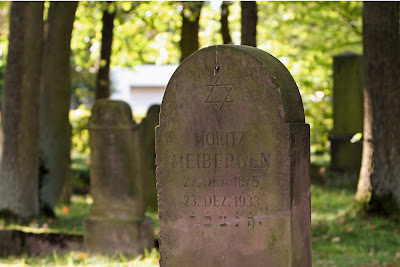 During or immediately after the Kristallnacht pogrom of 9th/10th November 1938, the cemetery was severely desecrated; tombstones were overturned, damaged or destroyed and also partially removed. Siegmund Cohen was the last person to be buried in the devastated cemetery, on 23rd November 1939, following injuries sustained during the pogrom. As a result, no stone was ever erected over the grave and, to this day, its precise location is unknown.
In June 1946 the local authority forced previously active Nazi party members, in particular the local party branch manager and several of "his most temperamental colleagues", to put the cemetery in order as far as possible. (Quelle: Murken) Wilhelm Aron, the only Jew to return to Osterholz-Scharmbeck, did his best to identify the graves. However, without doubt, it was not possible to repair all stones nor place all on the correct graves. Indeed, in 1966 when Fritz Cohen visited from Brazil, he was able to show, with the help of an original photo, that the gravestone of his aunt, Mimi Cohen, had been placed on the tomb of his grandmother, Elise Cohen. (source: Beer)
Today the graveyard belongs to the National Association of Jewish Communities of Lower Saxony and is a listed monument. Klaus-Peter Schulz, former Director of the Osterholz local history museum, has studied the cemetery for many years, drawn up plans, documented the German inscriptions, photographed the Hebrew text and has undertaken considerable additional research.
Further publications regarding the cemetery:
Ursula Siebert: Steinerne Zeugen unserer Kultur. Die alten Grabsteine in den Gemeinden des Landkreises Osterholz. Osterholz-Scharmbeck 1986.
Jürgen Lodemann: Die drei Judenfriedhöfe im Landkreis Osterholz: Mahn- und Warnstätten zugleich. In: Heimat-Rundblick. Geschichte. Kultur. Natur. 6 (1993), Heft 24, S. 6-7.
Thank you, Jonathan Strauss, for providing this translation of the german article Jüdischer Friedhof.